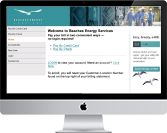 Introducing a new look to the View Account platform!
With easier navigation, we hope it is a more seamless experience for all our customers. If you have any questions, please contact customer service at 904-247-6241 or customerservice@beachesenergy.com.
If you have an existing PIN/password, you will be able to enter that information to be migrated to the new platform.
Beaches Energy Services makes it easy to pay or view your utility bill. Pay your bill online or choose one of the many convenient payment options listed below.
A separate login and password will be required when paying by check or credit card.
There is no fee for using E-check service.
There is a $4.95 third party convenience fee for this service up to $500.
---