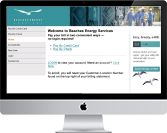 Introducing a new look to the View Account platform!
With easier navigation, we hope it is a more seamless experience for all our customers. If you have any questions, please contact customer service at 904-247-6241 or customerservice@beachesenergy.com.
If you have an existing PIN/password, you will be able to enter that information to be migrated to the new platform.
Everything you need to manage your account in one convenient place. 
Have questions? Visit our Frequently Asked Questions page by clicking here.