In Florida, sea turtle nesting season begins May 1 and runs through October. As the largest nesting area in the world for the Northwest Atlantic Ocean Loggerhead, it's up to us to ensure a safe nesting season.
At Beaches Energy, we work with the Beaches Sea Turtle Patrol (BSTP) and the City of Jacksonville Beach to spread the word about turtle safety and help enforce the Patrol's recommendations.
How We're Helping
Light pollution and artificial light prevents mother turtles from coming ashore to lay eggs. It can also cause hatchlings to become disoriented and wander inland, rather than toward the water. Each nesting season, we help prevent this by:
Turning off street lights at beach access points where nests are present
Promoting BSTP recommendations to all Beaches Energy Customers
Join the #cleandarkflat movement
This year, in addition to our usual efforts we're partnering with local coffee shops. Help protect sea turtles by purchasing a #CleanDarkFlat coffee mug!
What is a clean dark flat?
It's your favorite coffee, but better! For a limited time, when you visit a participating coffee shop and ask for a Clean Dark Flat, you'll receive a one-of-a-kind mug and provide much-needed funds to help protect sea turtles.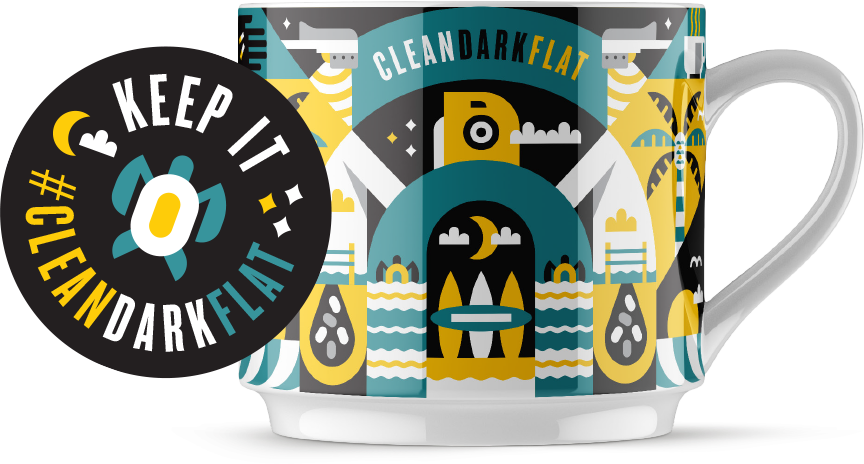 How it works
Visit one of the participating shops listed on this page.
Ask your barista for a Clean Dark Flat
For a $10 donation, you'll receive a special #CleanDarkFlat mug
Sold out!
All #CleanDarkFlat mugs have been sold. Proceeds from the campaign will go to the BSTP to fund their efforts.
Where to get a clean dark flat