JACKSONVILLE BEACH, Fla. (June 16, 2021) – Sea turtle nesting season is in full swing, and Beaches Energy Services, the City of Jacksonville Beach and the Beaches Sea Turtle Patrol are launching their 2021 public awareness campaign on World Sea Turtle Day, June 16, to ensure that as many turtles as possible succeed. This is the second year this collaboration has come together to protect sea turtles. Called #CleanDarkFlat, the hashtag is an easy way to remember and share on social media what people can do to help the threatened species. In order for sea turtles to successfully build nests, hatch and return to the ocean, their nesting grounds - our beaches - ideally are:
Clean - free of litter, including trash, chairs, umbrellas and other debris
Dark - free of artificial light
Flat - free of holes or sandcastles that trap turtles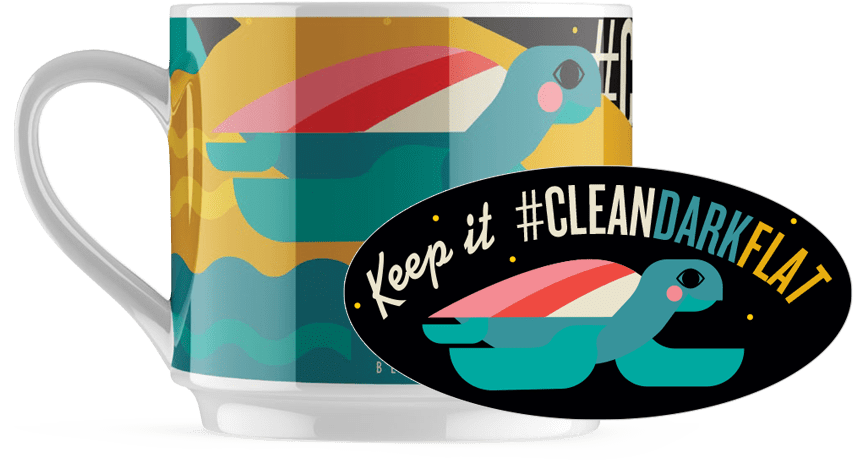 The awareness campaign builds on a longstanding collaboration of Beaches Energy Services and the Beaches Sea Turtle Patrol to be good stewards of our natural resources. "Beaches Energy is proud to continue our efforts to protect local sea turtles by supporting the Beaches Sea Turtle Patrol through this annual awareness campaign and efforts such as making streetlamps go dark during nesting season," said Allen Putnam, Director of Beaches Energy Services. "We hope by getting the word out about the simple steps we can all take to protect the sea turtles, it will encourage our neighbors and visitors alike to keep our beaches #CleanDarkFlat."
Beginning June 16, several Jacksonville Beach coffee shops are helping to spread the word with limited edition #CleanDarkFlat coffee mugs. With a $10 donation at participating coffee shops or the Beaches Energy Services office at City Hall, people can support the nonprofit Beaches Sea Turtle Patrol and receive a collectible mug that features a bold graphic design with a colorful sea turtle. Stickers are also available at each coffee shop. A kick-off event will be held at Bold Bean in Jacksonville Beach.
Sea turtle supporters can contribute to the campaign by purchasing a mug at one of the following participating coffee shops:
Residents who are served by Beaches Energy Services will receive information about #CleanDarkFlat as a friendly reminder and encouragement to practice good beach stewardship. Beachgoers may also notice some unlit streetlamps through October. That's because Beaches Energy works with the Beaches Sea Turtle Patrol to dim or darken streetlamps that are near an active nest. 
For a complete list of participating coffee shops and more details about #CleanDarkFlat, visit www.BeachesEnergy.com/CleanDarkFlat.