During outages, Beaches Energy always works to restore power as efficiently and safely as possible. If you see that everyone around you has power but you do not, before calling us, please do the following:
Check Your Breakers
If the power to your home comes from an underground line, check your meter - there are two kinds of meters:
If you have a mechanical meter, AND you have power, the disc in the meter will be spinning
If you have a digital meter AND you have power, the lights in the meter will be displaying and/or flashing
If the power to your home comes from an overhead line, check to see if there is damage to the line that runs from the street/electric pole to your roof. If there is damage to the electric connection from the street to your roof, call a licensed electrician to fix the damage AND call Beaches Energy, to reconnect your power. Note: All reconnections will likely require an inspection by your city/county Building Division. 
After taking these steps, if you still do not have power, report the outage along with your address and contact information to 904-247-6171.
The summer season brings with it intense storms and hurricanes. When this leads to power outages, Beaches Energy Services remains committed to restoring power to our community safely and as quickly as possible. Learn more here.
 
Steps To Restoring Your Power: 
Public Safety Situations – Beaches Energy responds to downed power lines and makes sure electricity is no longer flowing through the wires. Report all downed power lines to Beaches Energy Services immediately and please stay clear as line may still be energized.
Transmission, Substation, Equipment & Main Distribution Lines – These lines serve large numbers of customers and large geographic areas, and must be restored first to keep electricity flowing from power plants to neighborhoods.
Essential Facilities – Quick action is taken to restore power to critical facilities and infrastructure such as hospitals, law enforcement, fire departments and water treatment facilities.
Distribution Lines – We work to get the largest number of customers back on as quickly as possible.
Restoration Diagram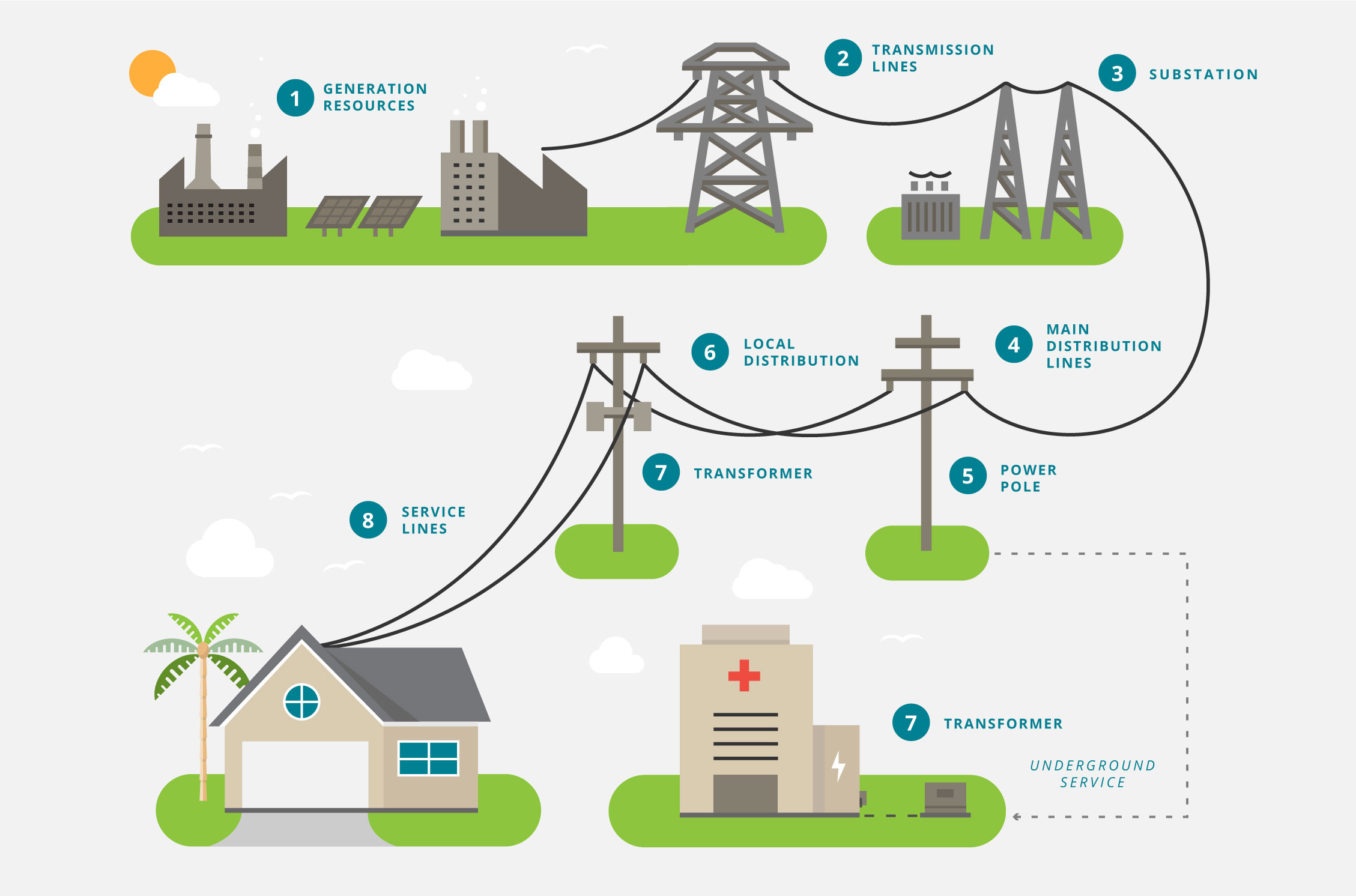 Generation sources (power plants)
Transmission lines (supply large number of customers and large geographic areas) 
Substation (where voltage is lowered) 
Main distribution lines (deliver electricity to large subdivisions and commercial areas) 
Power pole (showing underground service to hospital) 
Local distribution or tap line (the type of line that runs along neighborhood streets) 
Transformer (reduces service voltage to individual households and businesses) 
Service lines (to individual homes) 
Should you ever need to report an outage or trouble with your utility service, Beaches Energy Services provides a 24-hour emergency line at (904) 247-6171.
Learn about common outage causes and how we work to prevent them. Click here.