Jacksonville Beach, Fla. (July, 2021) – Last week, Allen Putnam, director of Beaches Energy Services, was recognized by the Florida Municipal Electric Association (FMEA) with a Past Presidents Award at the organization's annual banquet.
Putnam is the outgoing president of the FMEA Board of Directors and has served on the board's executive leadership team for the past four years. Putnam served as FMEA president from December 2019 through July 2021, and previously served FMEA as president-elect, vice president, and secretary-treasurer.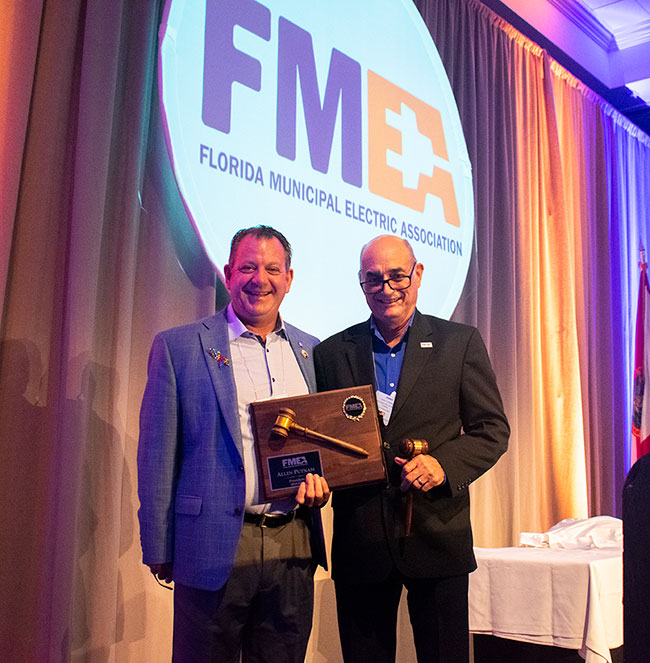 "Allen has the heart of a servant and has been a tireless, consistent advocate for Florida public power for many years.  He has gone above and beyond during a difficult year demonstrating his strong commitment to the advancement of public power in Florida," said Amy Zubaly, FMEA Executive Director. "We are so thankful to have public power champions like Allen on our side and are pleased to recognize him with a Past Presidents Award this year."
Beaches Energy Services provides power to more than 35,000 customers in Jacksonville Beach, Neptune Beach, Ponte Vedra and Palm Valley.
"There are no finer people than my Florida public power colleagues and it is a tremendous honor to be recognized by them with a Past Presidents Award," said Putnam. "In addition to serving the customers of Beaches Energy Services, it has been a great privilege to serve other public power communities through FMEA."
FMEA is the statewide trade association representing Florida's public power utilities. The association actively represents and advocates for member cities' interests on a wide variety of state and federal issues, provides education and training for members and serves as a clearinghouse for industry news and information.
Municipal electric utilities provide affordable, reliable electric service, and have been doing so for more than a century. As community-owned and locally managed organizations, these utilities are focused on serving local needs and interests while reinvesting back into the communities they serve.
For more information on FMEA and Florida's public power communities, please visit www.flpublicpower.com. 
The Florida Municipal Electric Association (FMEA) represents the unified interests of 33 public power communities across the state, which provide electricity to more than 3 million of Florida's residential and business consumers.